Why I Became a Coach
I know the impact that the right coach at the right time can have.
At critical turning points in my life, a coach made all the difference.
My high school basketball coach instilled in me valuable life lessons. So much so that I give an annual scholarship in his honor at the school.
In my corporate career, a great executive coach supported me in becoming a better leader.
And a running coach expertly tweaked my training that led me to qualify for the Boston Marathon at 57, a life-long aspiration after 12 races using my do-it-yourself plan.
And since becoming a professional coach 11 years ago, I'm grateful for coaches who challenge me to learn and improve continuously.
My professional life today is focused on guiding others to move forward. I'm a catalyst for positive change, inspired by those who've boosted me along the way.
I coach leaders on the rise, sparking new insights and building new behaviors.
And I work with successful people who are retiring from their primary career design how to leverage their skills in new and meaningful ways.
About Joe Casey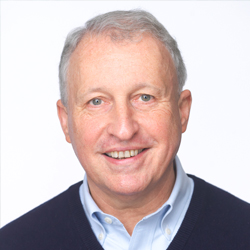 Joe Casey is an executive coach and a catalyst for positive change and growth. Before becoming an executive coach, Joe spent 26 years at Merrill Lynch, where he was most recently Senior Vice President, Head of HR for Global Markets and Investment Banking. At Merrill, Joe held various leadership roles, including Managing Director, Chief Operating Officer for Global HR, and Head of HR for the Merrill Lynch Corporate groups.
Joe has earned Master's degrees from the University of Southern California, the University of Pennsylvania, an and Middlesex University (UK), a BA in Psychology from the University of Massachusetts at Amherst, and his coaching certification from Columbia University.
He is certified in various assessment tools, including the Hogan, the Birkman, EQ-I, the EQ-I 360, and the Team Performance Model. Joe is a member of the Institute of Coaching and the International Coaching Federation.
Joe's executive coaching practice was named a top 10 Leadership Development Consulting Companies in 2019 by HR Tech Outlook. Business Insider named Joe as one of 23 innovative coaches making a difference in people's careers in 2020.
In addition to his executive coaching practice, Joe is the Managing Partner of Retirement Wisdom, which helps leaders create meaningful second careers. He hosts The Retirement Wisdom Podcast and has been quoted in publications including The Wall Street Journal, Business Insider, MarketWatch, US News & World Report, and CNBC.com on various topics.
As a runner, Joe has run 13 marathons, including Philadelphia, San Francisco, and the Boston Marathon, and is grateful to able to run in virtual races in 2020.